Ripstop Tote Strawberry Bag – Tutorial
26th May, 2023

I'm Annabel from Annabel Sews (@annabelsews) and today I'm going to share with you a little tutorial on how to make a strawberry bag! 
What is a Strawberry Bag I Hear You All Think?
Well, it's a tote bag, that folds up to look like a strawberry when not in use!
Similar to those manufactured by big supermarkets, these ultra low weight bags, fold up really small to take up less space in your bag.
Having spent a while searching online for a tutorial, I couldn't find a great one, so I decided to write my own!
This tutorial has been sponsored by UK fabrics online, and they have provided me with the fabric free of charge in exchange for writing this blog for them. 
These instructions don't provide you with the most beautifully finished bag on the inside, however it is neat and 'finished' – a sewing term meaning stopped from fraying.
The purpose for this construction method is to provide the lightest, smallest bag when it's folded up. If you made it with double folds, French seams, heftier seam allowances, and wider straps, then it wouldn't be as easy to fold up.
Matching your thread colour on the inside will greatly improve the aesthetics of your finished bag. 
Fabric Requirements
1- 0.5m of ultra light weight woven fabric such as nylon ripstop – I used this in red, but any colour would work Ripstop Nylon Water Resistant Fabric | UK Fabrics Online
2- 50cm of drawstring cord, corded elastic, or ribbon – I used this Polyester Cord Elastic 1mm – Various Colours (littletshaberdashery.com)
3- 55cm of 12mm single fold bias binding – I used this Jungle Splash (green) – The Specky Seamstress
Cut List and Layout
1- Two rectangles measuring 17" x 15"
2- One rectangle measuring 2" x WOF (width of fabric, or 60") – this can be cut as two 2" x 30" rectangles if necessary. 
If you are using scraps of fabric to cut this out, feel free to ignore the cut diagram, but if you just have 0.5m, you can get it all cut out if you lay it out as follows: 

Tutorial
1- Make the strap
I didn't risk ironing the ripstop, but it holds a finger press well and creases great by hand so ironing isn't essential. If you are using a cotton/polycotton, you will need to use an iron for this step.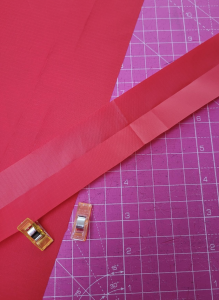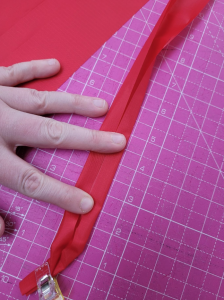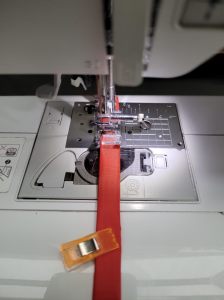 Sew along both long edges, using a long length (3) straight stitch, as close to each edge as you can, ideally around 1/8" or 0.2cm.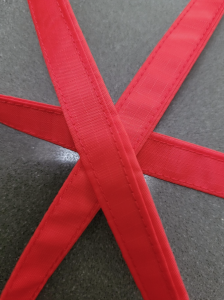 2- Add bias binding to the front and back
Lay each of your main pieces face up (if you have a right/wrong side, the 'pretty side' should be visible, and if your fabric is directional, the pattern should be correctly aligned, with the images in a landscape orientation), 15"wide and 17" tall.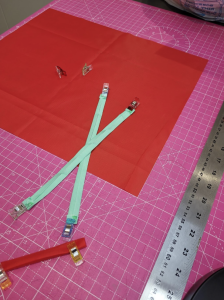 Cut two strips of bias binding, each 10.5" long. Fold each short end to the wrong side 1cm and tack, baste or pin in place.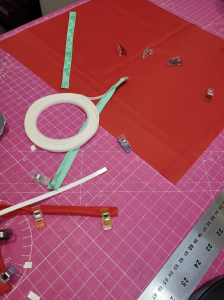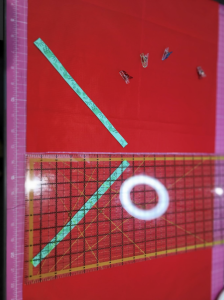 The top of the bias tape should be 7.5" up from the bottom of the bag, and 0.5" in from the side. The bottom of the bias tape should sit 7.5" along from the corner, and 0.5" up from the bottom edge.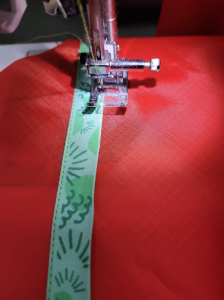 Sew along the two long edges of each strip of bias as close to the edges as possible, ideally 1/8" or 0.2cm, remembering to reverse stitch (backtrack) at the beginning and end of each line of sewing. The short edges should remain open.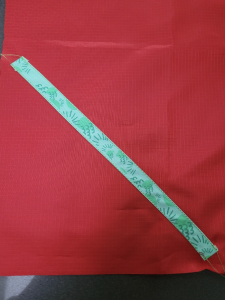 3- Construct the bag
Start at one of the top corners, sew straight down to the bottom, stopping 1/4" from the bottom, ensure your needle is down, lift your presser foot, rotate the fabric 90', replace the presser foot, and continue sewing along the bottom of the bag, until 1/4" before the edge.
Ensure your needle is down, lift your presser foot, rotate the fabric 90', replace the presser foot, and continue sewing along the second side.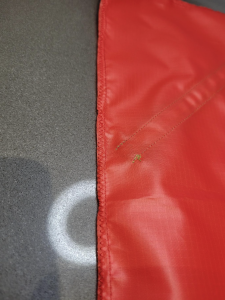 Change your machine stitch settings to a zig zag and sew along the same three sides as before, just to the side of your original line of stitching; for a more professional look, aim to hit right on the edge of the fabric, or use an overlocker.
4- Add straps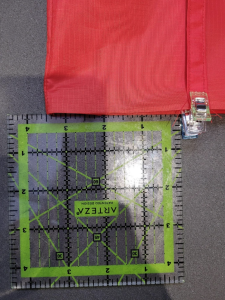 Mark 3.5" in from each edge with a clip or washaway pen/pencil. On the right side of your bag, clip your stap to the top edge of your bag, aligning all raw edges, and with the strap hanging down.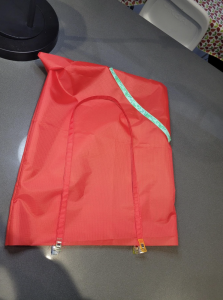 Open your bag and sew along the top open edge, all the way around, using a zig zag stitch. This will stop the fabric from fraying, whilst also securing the straps for the next step.
To give each strap more confidence, go over each strap, reverse back over it, and then continue on forwards. This means each strap gets sewn over three times.
5- Top Stitch 
Fold the top raw edge under 0.5" to the wrong side. Press the crease with your fingers to hold, and use clips to keep it in place. Flip up your straps so they are coming out the top of the bag. Clip them up too.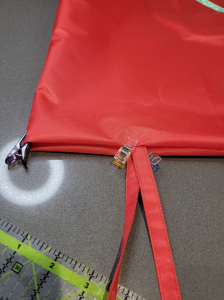 Same as with the zig zag, you're going to sew over each strap, reverse back over it, and continue forward again at each strap. One line will be close to the top of the bag, and one will be close to or over the zig zag.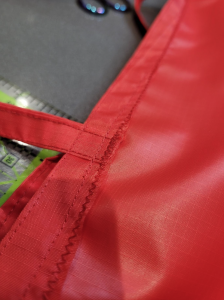 6- Thread the elastic or drawstring through the bias
Using a safety pin or strap turner (something like this – 4 Pieces Sewing Loop Turner Hook Long Loop Turner Tool with Latch for Fabric Belts Strips DIY Knitting Accessories, 26.5 cm/ 10.4 Inch : Amazon.co.uk: Home & Kitchen) thread your elastic, ribbon or cord through the bias channel.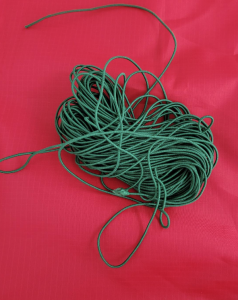 You want the cord to go in along the side, to the bottom, back in at the bottom on the other side, and up to the side seam and out again.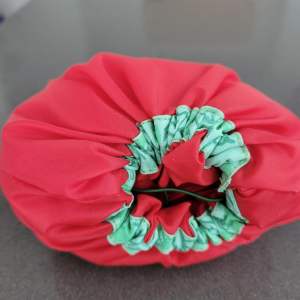 Your bag is done! Use it as it, and to fold it up, pull the cord and tuck the whole bag inside the corner. Tighten the toggle to secure.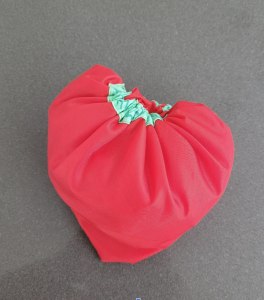 If you make one, I would love to see, use the hashtag #annabelsewsstrawberrybag, tag @annabelsews and @ukfabricsonline on Instagram! 
Tutorial created by Annabelsews (@annabelsews) for UK Fabrics Online.
Visit us at UK Fabrics Online to check our Ripstop range!
If you have any questions, email us or leave a comment here.
Hope you enjoy this one.
Thank you!